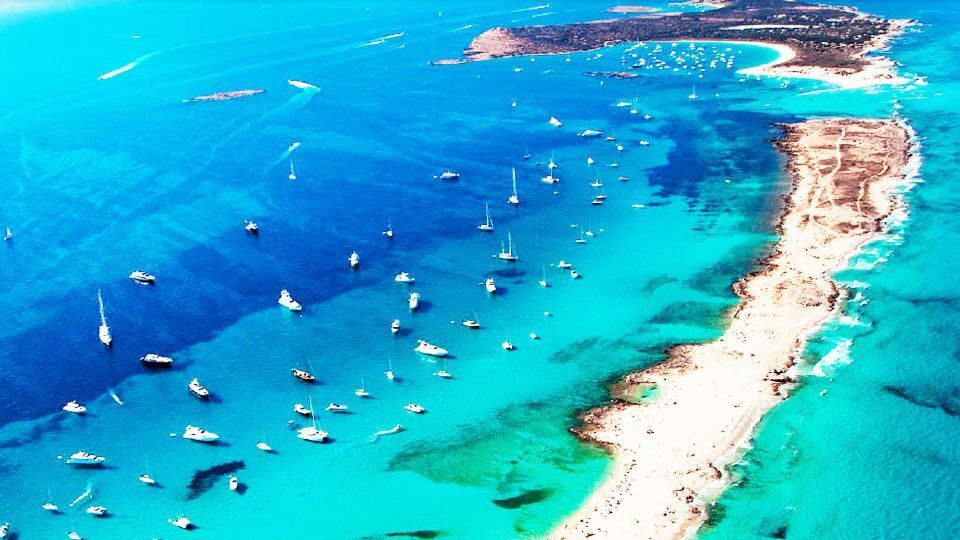 On the opposite side of Playa de Llevant is the most famous and most stunning beach in Formentera.  A long stretch of beautiful white sand slope into crystal clear water that sparkles in captivating shades of blue. It is situated on the north coast of the island of Es Trucadors, on a long, thin sandy promontory.
Ses Illetes and Playa de Llevant both belong to an area called the Natural park of Ses Salines.
Identity card:
Type: Sandy Beach
This 500 meters long beautiful paradise has beautiful gentle shallow water that looks like a natural swimming pool with the most beautiful shade of blue and a strip of narrow white sand. It almost has no facilities around, just a few small, stylish, wooden beach bars and restaurants and a lot of fancy super yachts that are anchored offshore.
How to get there:
Geo: 38°45'35.1″N / 1°26'08.6″E
Getting around the small island of Formentera is easy. By bus, take L1, it goes around the Estany Pudent with departure and arrival at the port. Stop at Ses Salines and from there you can walk to Ses Illetes for about half an hour.
Platja de ses Illetes is situated at four kilometres from la Savina, it is more ideal to explore the island by bike. There's only one main road, so it's impossible to get lost. And it is what most people do in the island. Besides, if you go to Ses Illetes by bike, you don't have to pay for parking fee and it also stops the pollution and protects the natural reserve.
However, if you go by car, you will have to pay 6 euros for parking including the entrance fee to the beach.
Did you know?
Playa des Illetes means beach of the tiny islands. Nearby you will find Illa des Ponet, Tramuntana, Escull des Pou, Illa Rodona, Escull d'en Paia, Raco des Palo and Espalmador.
In 2003, Ses Illetes was awarded by TripAdvisor the prize for "Best beach in Spain" and number 12 most beautiful beach worldwide.
What to see:
Don't be surprised if you see Posidonia Oceanica or commonly known as Mediterranean tape weed. It is a genus of sea grass native to the Mediterranean Sea. It forms vast aquatic meadows that are an essential part of the ecosystem. Some call it the lung of the Mediterranean.
You will also see a few pink salt lakes in Ses Salines on the way to Ses Illetes, especially in the summer.
Take in the beautiful sights of the yachts floating in the middle of the ocean, the wild flower fields, the blue sky and the sun.
What to do:
There are a lot of things to do on this beach. Windsurfing, kitesurfing, sailing, paddling and snorkeling are great ways to see the island from a different view. If you don't fancy water activities, riding a bicycle going around different places gives you a magical experience.
The most exciting thing is to rent a canoe or a catamaran to go to the beautiful island of E'spalmador to the north of Formentera, it is a great way to explore the island.
Visit the Platja de Llevant, which is just a few meters away in some areas. Not only is it quieter, but the view is also less spoilt than the Illetes, which has a ton of yacht anchored in its waters. And of course, relax with your feet in the sand, rejuvenate with the fresh air.
Where to eat:
Platja de Illetas is one of the most touristic and isolated areas of Formentera. Its lovely location is one of the reasons why most of the restaurants here are among the most expensive. Below is list of restaurants you can try when you are in the island.
Es Moli de Sal
This restaurant is an old mill belonging to the old salt industry of Formentera. It is exquisitely restored to give a menu of the best traditional dishes of the island and Mediterranean cuisine, often accompanied by a wide selection of fine wines. With spectacular views of the beach of Illetas on one side and the port of La Savina on the other, Es Molí de Sal has the ideal scenery and landscapes to let yourself be swept away by the beauty of the sea during the day and a great place to enjoy the best sunsets of Formentera with the island of Es Vedrà cutting the horizon in the distance.
Address: Calle Afores, s/n, 07871 Formentera, Illes Balears, Espagne
Opening Hours: Every day from 13:00 to 23:00
Phone: +34 971 18 74 91
Kiosko Restaurante El Pirata
El Pirata Restaurant Kiosk is another great spot to witness the stunning sunsets of Formentera. This restaurant is one of the most popular on the island and, of course, one of the most expensive but it is all worth it for the quality of the food you get and the great service they provide. Its beachfront location gives you great views and great atmosphere. Order a glass of Sangria and enjoy the sunset.
Address: Camino de Ses Illetes 128 Playa de Illetas, 07871, Formentera Spain
Opening Hours: Every day from 12:30 to 22:00
Phone: +34 971 32 40 64
Beso Beach Restaurant
This restaurant is located in the Ses Salines Natural park. Its product is a fusion of Mediterranean cuisine with the complexities of Basque, creating an authentic, pure flavour.
Located just right off the beach, you'll find white sand, crystal clear water, and true pirates.
The restaurant has small dinghies that's going to pick you up from your boat and take you to the beach. The atmosphere is lively, most especially when the DJ periodically turn up the music with the latest hits making the people start dancing. It is definitely a great place to catch up with your friends when you are in the island.
Keep in mind that getting a reservation ahead of time is highly recommended.
Address: s/n, Parque Natural de Ses Salines Playa de Cavall d´en Borràs, 07860, Islas Baleares, Espagne
Opening Hours: Every day from 11:00 to 21:00
Phone: +34 971 93 12 04
What about drinks, shops and hotels?
There are no hotels in Platja de Illetes but there are a lot of accommodations to choose from in Es Pujols and La Savina.
Can Armat. Formentera Mar is set in Ses Salines Nature reserve less 10 minutes' drive from Ses Illetes. It features a rustic-style apartment with its own private furnished terrace and a kitchenette.
Formentera White Estudios in La Savina in front of Estany des Peix Beach also has a kitchenette in all of its apartments and its own small private terrace.
Shops, you will find plenty in such a small island. The one closest to Platja de Illetes is the La Savina Market right in front of the Port of La Savina. It is open everyday from 11 in the morning until 12 midnights from June 1 to September 15. The market mainly sells clothing and accessories. You can also check Anemona, a small store with nice items from souvenirs, baskets, hats, bikinis, magnets and much more.
For drinks, look no further, Kiosko Restaurante El Pirata is the place to go. Not only are you going to enjoy the drinks, you have got a stunning view of the ocean at sunset too.
Tips:
It is a beautiful beach to be in but there is not much around. If you don't want spend a fortune in the restaurants nearby, Ibizadvisor suggests that you take water and food before you get there.
Keep in mind that the entrance to the beach is minimal. We recommend you go early to avoid a long wait to get to the beach. Enjoy and leave with memories that last a lifetime!