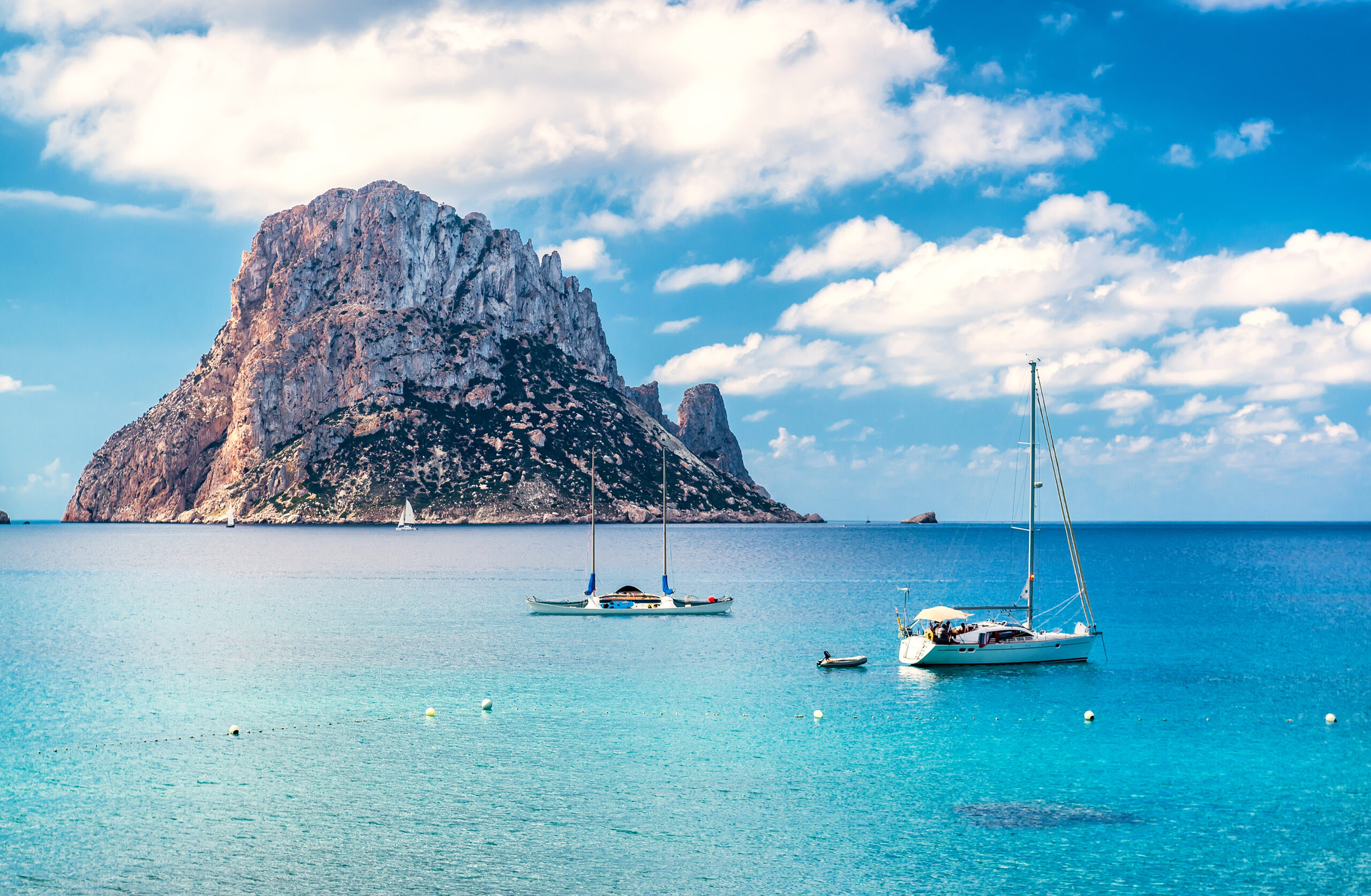 Best Beaches in Ibiza & Formentera
Cala d'Hort
Cala d'Hort is a beach located in a wilderness setting, near by the islets of Es Vedrà and Es Vedranel. The 200-meter-long and south-west facing beach really is ideal because it is protected from the wind. From there, the sunset view is astonishing and unforgettable! This beach is also known for being very busy, attracting tourists from all over the world to admire the view, sited at restaurants. If you want to spend an amazing moment observing the clear turquoise waters, we recommend you Cala d'Hort. You can also visit Atlantis nearby, one of the most famous secret beaches of Ibiza, an hidden gems with natural pools made of rock facing the other side of Es Vedrà.
Aguas Blancas
This spot is very well known for being one of the Ibiza residents' favorites. Surrounded by cliffs, it offers a superb view. The beach is never crowded, even in august, as it is only reachable by car! Moreover, it has some good waves on windy days, and it is then possible to do some body surfing. This beach is also a non-official nudist beach, so don't be surprised if some people take off their clothes!
Cala Comte
This little paradise is accessible from San Antonio by ferry, bus and car. This crystal beach offers a breathtaking view on the small islands around the coast. Its turquoise waters and the various places around to explore make it one of the nicest beaches on the island as one of the best beaches in ibiza for families. It has 2 stretches of sand, one supported by a rocky coast and the other by sand dunes. The 2 main beaches are separated by a very bohemian restaurant. Designed in a very creative setting, melted into the rocks, this beach restaurant is a must go during your holidays in Ibiza.
Ses Illetes Formentera
If there is only one beach to see on the island of Formentera, it is Ses Illetes. Surrounded by dunes, located on the northern tip of the island, in the Salines Natural Park, this place is far from tourist installations. You will have to walk around 40 minutes to see the entire beach and its pebbles, stacked one on top of the other, forming mystical sculptures. This spot is a must see during your trip in Formentera!
Salinas
Las Salinas is one of the most iconic beaches of Ibiza. With its soft golden sand, and salt water, this beach has nothing to envy to the others on the list. Even if this place is extremely popular with the jet-set crowd and some improvised ibiza beach parties, people from Spanish families to hippy nudists are also coming to enjoy it. Situated 10 minutes away from Ibiza Town, a lot of activities are available there, such as pedalo, kayak, stand-up paddle and more. It also features an access for disabled and a lifeguards supervision: this beach is one of the most secured one.